IGL-1®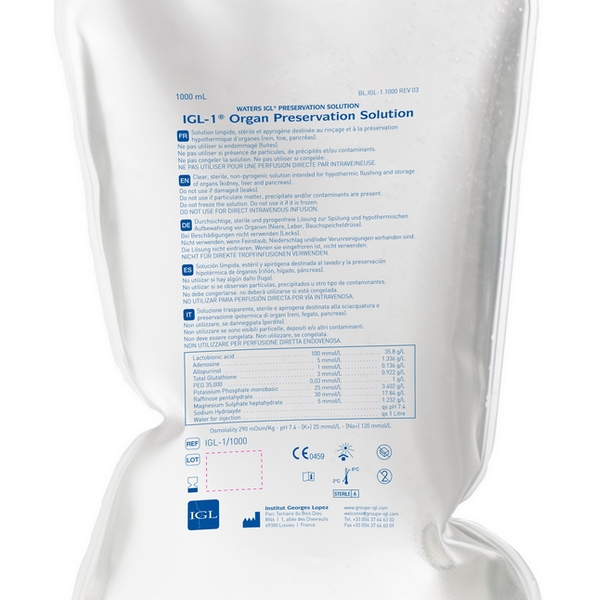 Organ Preservation Solution for kidney, liver and pancreas organs
IGL-1® is a clear, sterile, non-pyrogenic solution intended for hypothermic flushing and storage of organs (kidneys, liver, pancreas). IGL-1 solution has an osmolality of 290 mOsm/kg, a total sodium concentration of 120 mmol/L, a total potassium concentration of 25 mmol/L and a pH of 7.4 at room temperature.
Composition
IGL-1 has the following composition :
Lactobionic acid 35.8 g/l
Adenosine 1.336 g/l
Allopurinol 0.136 g/l
Glutathione 0.922 g/l
Polyethylene glycol (PEG 35000) 1 g/l
Potassium dihydrogen
phosphate 3.402 g/l
Raffinose pentahydrate 17.84 g/l
Magnesium sulfate
heptahydrate 1.232 g/l
Sodium Hydroxide qs pH: 7.4
Water for injection qs 1 liter
Features & Benefits
Extracellular solutions – low K+
Flushing & Storage
Ready to use, no filtration
Manufacturing on a pharmaceutical production site and according to ISO 13485
Models & Specification
Box of 10*1000ml bag
Box of 6*2000ml bag
IGL-1® is a Medical Device.
Clinical Studies
Compared Efficacy of Preservation Solutions in Liver Transplantation: A Long‐Term Graft Outcome Study From the European Liver Transplant Registr
Effect of preservation solutions for static cold storage on kidney transplantation outcomes: A National Registry Study.