BEL-GEN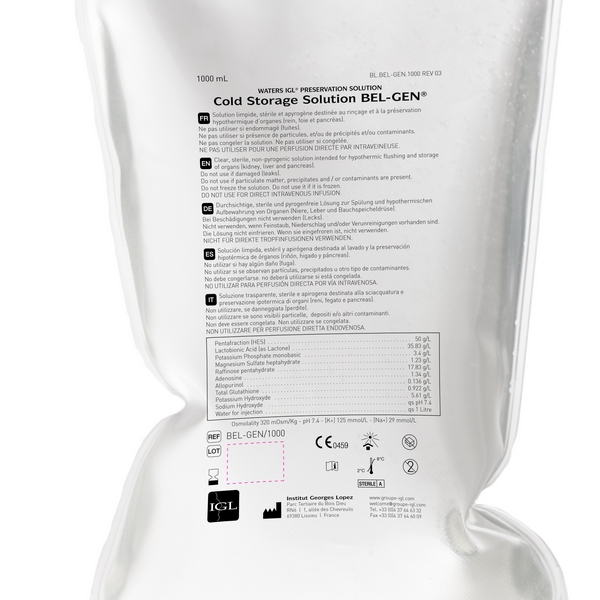 Cold storage solution for kidney, liver and pancreas organs, having the same composition as originally formulated by F.O. Belzer, MD and James Southard, PhD, at the University of Wisconsin
BEL-GEN is a clear, sterile, non-pyrogenic solution intended for hypothermic flushing and storage of organs (kidney, liver, and pancreas).
BEL-GEN has an osmolality of 320 mOsm/kg, a sodium concentration of 29 mmol/L, a potassium concentration of 125 mmol/L and a pH of approximately 7.4 at room temperature.
Composition
BEL-GEN has the following composition :
Pentafraction (Hydroxyethyl Starch) 50 g/L
Lactobionic Acid 35.83 g/L
Potassium Dihydrogen Phosphate 3.4 g/L
Magnesium Sulfate heptahydrate 1.23 g/L
Raffinose pentahydrate 17.83 g/L
Adenosine 1.34 g/L
Allopurinol 0.136 g/L
Total Glutathione 0.922 g/L
Potassium Hydroxide 5.61 g/L
Sodium Hydroxide/Hydrochloric Acid qs pH: 7.4
Water for Injection qs 1 litre
Features & Benefits
Flushing & Storage
Ready to use, no filtration
Manufacturing on a pharmaceutical production site and according to ISO 13485
Models & Specification
BEL-GEN is a Medical Device.