CELSIOR®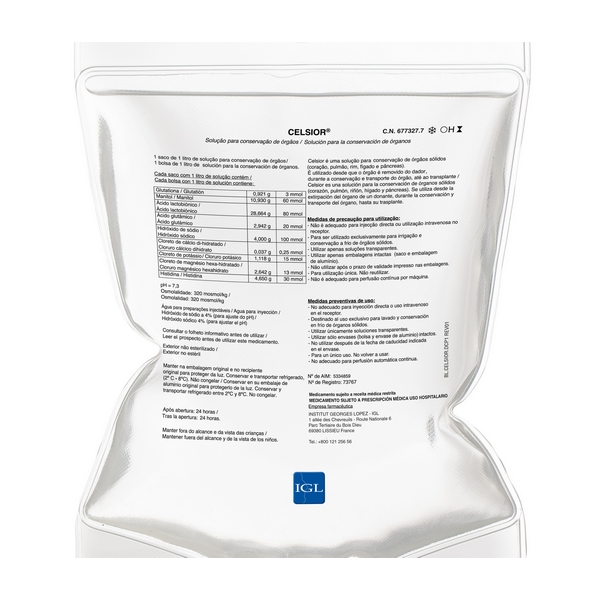 Cold Storage Solution
Please contact IGL for availability on your market.
In the USA, the use of CELSIOR® for preservation of organs, other than hearts, has not been approved by the FDA.
Composition
CELSIOR has the following composition (active ingredients) :
Glutathione 0.921 g/L
Mannitol 10.930 g/L
Lactobionic acid 28.664 g/L
Glutamic acid 2.942 g/L
Sodium hydroxide 4.000 g/L
Calcium chloride dihydrate 0.037 g/L
Potassium chloride 1.118 g/L
Magnesium chloride
hexahydrate 2.642 g/L
Histidine 4.650 g/L
Models & Specification
Box of 4*1000ml bag
Box of 8*1000ml bag (US & Canadian markets only)
Classification
Europe : Drug
World (Outside EU) : Medical Device
Clinical studies
High-risk heart grafts: effective preservation with Celsior solution. De Santo LS, et al. 2006.
A single solution for multiple organ procurement and preservation. Karam G, et al. 2005.
Experimental evaluation of Celsior, a new heart preservation solution. Menasché P, et al.. 1994.